Labels and certifications
Add to favorites
Many classifications and labels qualify the tourist offer. In addition to reception and comfort criteria, they take into account environmental criteria.
Ranking
The classification is valid for campsites, hotels, vacation rentals. It is awarded by an approved organization, which, depending on the level of comfort and service, awards accommodation from 1 to 5 stars for a period of 5 years.
Gîtes de France label
The Gîtes de France label is valid for vacation rentals and guest rooms. It guarantees precise quality standards and compliance with a charter. All accommodations are labeled according to their environment, their degree of comfort and services. Gîtes de France delivers accommodation from 1 to 5 ears of corn for a period of 3 years.
Clévacances label
The Clévacances label is valid for vacation rentals and guest rooms. Each of the rentals and bed and breakfasts has undergone a labeling inspection to check that it complies with the demanding Clévacances quality charter. This includes more than 200 criteria: comfort and facilities, location and environment, reception and assistance… Clévacances delivers accommodation from 1 to 5 keys. Subsequently, a control visit takes place every 4 years.
Ecolabels
Eco-labels bring distinction to environmentally friendly products and services. They promote professionals committed to sustainable development initiatives and encourage customers and/or visitors to adopt "eco-responsible" behavior.
The European Ecolabel
The European Ecolabel aims to promote environmentally friendly products and services. It is issued by AFNOR Certification and concerns all types of tourist accommodation. Labeled establishments must comply with a grid of criteria aimed at saving water and electricity; sorting waste; to use fewer chemicals; to offer organic and local products…
The CRT Bretagne supports you in your classification process towards the European Ecolabel.
NF ENVIRONMENT mark – VISIT SITES
The NF Environnement Mark certifies structures that tend to limit their impact on the environment. It is issued by AFNOR Certification and is valid for visit sites (museums, interpretation and exhibition centres, parks and gardens, etc.) as well as leisure parks. The objective is to control water and energy consumption, reduce waste production and use eco-labeled products. The general management of the site involves both staff training in environmental management and visitor awareness.
green globe label
The Green Globe label is an international certification. It is aimed at all tourist businesses: accommodation, restaurants, leisure parks, visit sites, etc. This label takes up the 3 pillars of sustainable development: economy, environment, social, always in a process of progress and is based on more than 40 mandatory criteria and a number of compliance indicators. Labeled structures are audited every year.
THE GREEN KEY label
The Green Key label is valid for tourist accommodation committed to an approach of respect for the environment. This label attaches particular importance to raising customer and staff awareness of eco-gestures as well as good management of water, energy and waste within the structure. The criteria grid varies according to the type of accommodation. The label is awarded for 1 year.
Camping Quality label
The Camping Qualité label is a national certification for campsites. This label is based on quality criteria such as reception, cleanliness of pitches and infrastructure. Labeled campsites also undertake to preserve the environment and manage their campsites in a sustainable manner (resource management, use of renewable energies, eco-gestures, etc.). It is awarded for 5 years.
Other steps
THE TRAVELER'S CHARTER
Become an ambassador for sustainable and responsible tourism in Brittany by signing the Traveler's Charter.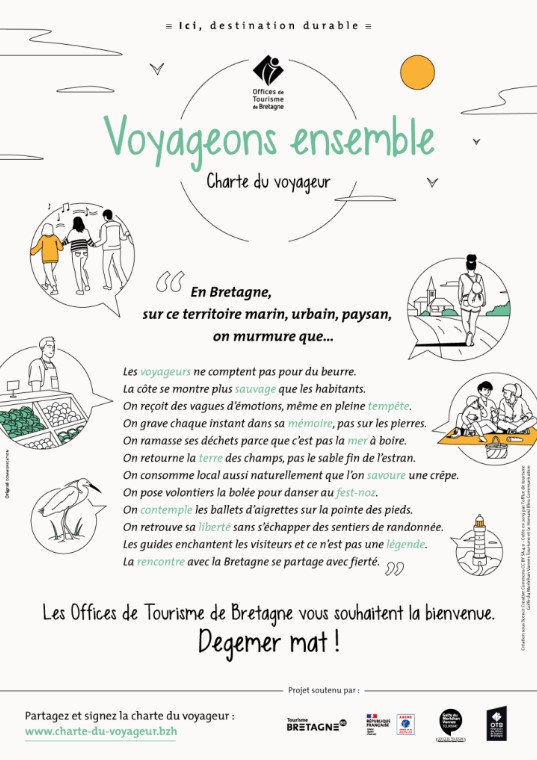 CRT BRITTANY ECOGESTURE KIT
CRT Bretagne, in partnership with ADEME*, provides a kit of 13 tools (posters, stickers, etc.) aimed at making your customers aware of the good practices to adopt in terms of sustainable development:
How to consume less energy?
How to save water?
How to reduce your waste production?
How to promote soft mobility?
This kit will also allow you to promote your commitments to the preservation of the environment. It is intended for many professionals: accommodation providers (camping, hotel, bed and breakfast, lodges, etc.), leisure structures, visit sites, restaurants, institutions, etc.
*ADEME: Agency for Ecological Transition
Sustainable Tourism Recovery Fund
The CRT Bretagne supports tourist accommodation providers and restaurants in their ecological transition approach and in particular for access to financing via the National Recovery Fund.
Sustainable Tourism Recovery Fund
QUIMPER CORNOUAILLE DEVELOPMENT
Quimper Cornouaille Développement supports project leaders and accompanies tourism professionals in the area towards labeling procedures
Professional space of Destination Quimper Cornouaille Development