Océane Company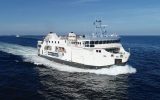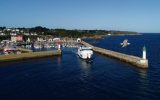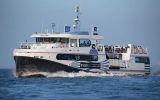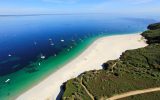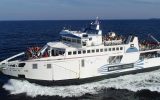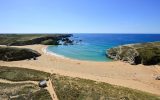 Description
Ile de Groix: To get to the Ile de Groix, 8 km long, 3 km wide, as soon as you board, you will review the various ports in the harbor of Lorient (passengers, trade, fishing, yachting, military) then the citadel of Port-Louis, the last rampart out to sea. A historical introduction before leafing through the island's ledger.

Belle Ile en Mer: 45 minutes of cruising will be enough for you to approach the largest of the Breton islands (9 km wide and 20 km long) via its capital Le Palais, sheltered behind its Vauban citadel, or via the small flowery port of Sauzon . It is in its colorful valleys, in its fragile dunes and its small coves that Belle-Ile "the aptly named" inspired Alexandre Dumas, Monet, Sarah Bernhardt and many others...

Houat: 14 km off Quiberon, separated from its twin sister Hoëdic by 8 km of blue waves, Houat is a peaceful island that has always been free of motorized vehicles. Port-Saint-Gildas, its fishing village, will be the starting point for your hikes between the soft white beaches and the scratched reefs. As in the first Celtic springs, these carpets of mauve moors or grass of small graceful flowers will reveal to you the original meaning of sounds, scents, colors...

Hoëdic: A few miles from Houat, once you have crossed the Passage des Soeurs, Hoëdic appears. Smaller, lower, but modeled in the same granite rock to withstand the worst storms. It is in a landscape of undisturbed silence, dotted with thousands of multicolored flowers, that the island of Hoëdic welcomes you for unforgettable walks.
Tickets on sale at the Tourist Office
---
Comfort / services
Pet Friendly
Access for people with reduced mobility
---
Prices
Payment method
Payment cards
French "Chèques vacances"
Cash
---